The
Peter C. Kurth
Office of Architecture and Planning, PC, AIA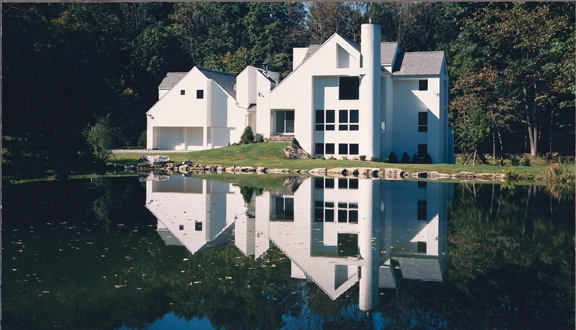 Westchester County Architect - Projects
Peter Kurth Architects designed these Bedford Corners, NY homes. Bedford Corners, NY in Westchester County is known for its beautiful hilly properties and wooded areas. Westchester County Architects face many challenges in designing homes for their clients. Steep slopes and wetlands issues require a Westchester Architect familiar with the often extended and complicated process of gaining wetlands approvals and steep slopes approvals, as well as other dealing with other environmental sensitivities. Mount Kisco Architect Peter Kurth excels in handling these issues. For the past 30 years Peter Kurth has created beautiful homes on dramatic sites in Bedford Corners NY and surrounding areas in Westchester County. As an Architect, Peter Kurth sites his homes to maximize the beauty and curb appeal of a home, while minimizing the encroachment on sensitive environmental areas. Working with engineers and other professionals, AIA Architect Peter Kurth can help a client realize his dream of building a home on a difficult property.
The beautiful shingle-style colonial home designed in Bedford Corners NY by Peter Kurth overlooks rolling hills and wonderful stone walls. Every detail, from the high ceilings to the rear decks and landscaping were designed by Peter Kurth Architects to take advantage of the Westchester County topography.
Architects in Bedford Corners, NY love the wooded hillsides as settings for the jewels they design for their clients to live in. Peter Kurth Architects nestled this sleek contemporary home in Bedford Corners, NY against a lake which would reflect its pristine beauty, surrounded by its natural woods to retain its natural Westchester County home feeling. Peter Kurth's Westchester County Architectural experience is that a home is not a stand-alone entity but rather a component of a broader context and neighborhood. As your Architect, Peter Kurth will appear before Bedford Corners and Mount Kisco NY Architectural Review boards and gain approval of your home's design. An experienced Westchester County Architect, Peter Kurth worked as an advocate before the town boards to make this home a reality.
The warm and inviting Bedford Corners, New York Peter Kurth designed home is set at the crest of a hill overlooking rolling farmland. The steep terrain, typical of Westchester County, NY provided Architectural challenges. Peter Kurth designed this home so the homeowners could enjoy the beautiful views to the rear of the property with maximum privacy at the front of the home. Architectural details such as wide trim, glass block, and extensive windows contemporize this classic colonial design.